Client

University College London

Sector

Education

Duration

6 weeks
What we did

Design research
Content strategy
Digital service design
University College London is the second-largest university in the UK by student numbers—only the Open University has more students. As with any large organisation, there are many departments. This can be a problem when an external partner is trying to collaborate with UCL. Instead of feeling like they're communicating with one organisation, the experience can be frustratingly fragmented.
We set out to better understand the wants and needs of these external collaborators. Our goal was to give UCL the tools they needed to communicate with their partners consistently, no matter which department the partners were in touch with or where they were in the partnership journey.
We created personas that can be used to stress-test content.
A roadmap for organisation-wide alignment
We helped UCL plan a unified, coherent content strategy.
A better understanding of top tasks
We provided insights for better navigation labelling.
The Full Story
How do you form an accurate mental model of what people need?
UCL needs to communicate with external suppliers in many fields; construction, IT, local authorities, and more. Until now there's been a vague understanding of what these partners need. To get more clarity, we interviewed people directly. The findings from these interviews were then amalgamated into a representative persona.

In each interview, as well as gathering data for the personas, we tested a new global navigation and asked for their thoughts and feedback—killing two birds with one interview.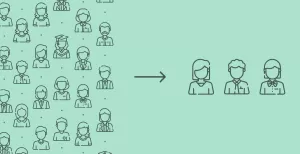 How do you make personas that are genuinely useful?
Let's face it, most personas aren't that useful. They can encourage empathy, but they aren't always used as an evaluative tool. We felt that personas could be just the right tool for UCL if they were designed to be practical.
The personas we created are:
A distilled essence of real users based on research and data.

A powerful tool that enables high-level decision-making.

Fictional generalised representations of a group of real users who share similarities.
The personas are not:
Stereotypes that perpetuate a surface-level understanding of users.

Static artefacts that fail to evolve or adapt.

So specific that they lose their value.
The personas are brief. There's a one-sentence description, accompanied by four short lists: goals, needs, challenges, and actions. No fluff.
All of that fits on one page. There's one more page with useful data on communication methods: a one-to-five scale for phone, email, website, social, and in-person.
These personas will be incorporated into UCL's design system so there's a central source for this valuable information.
Using this information, anyone in any department at UCL knows what to say and how to say it. From the external partner's perspective, that feels reassuringly consistent.

How do you ensure you're using consistent language?
Have you ever had to contact customer support only to be passed around from department to department? It's really frustrating when it feels like each department is a completely separate organisation.
If an organisation wants to present a unified front it's crucial that everyone is using the same language. And that language needs to make sense to the people you're communicating with.
We used a few different methods to understand what language made sense with external partners. We constructed a tree test, we built a testable prototype, and we ran a survey of top tasks. Taken together, these led to some valuable insights.
For example, one section of the navigation was labelled "staff", but this was misleading. It's a section of the site for staff, not about staff.
Armed with these kinds of insights, UCL can now tweak the labelling to better match a partner's mental model.

How do you know you're using the right communication channels?
The personas we created for UCL will be especially useful for content designers. But the value of the personas goes beyond the website.
One of the biggest insights from our research was the realisation that the website isn't always the right medium. Some partners would much prefer to talk on the phone, for example.
As well as providing UCL with specific personas, we also gave them the meta-framework to create more personas from different audience groups. Having laid the foundations for future iteration, we're very much looking forward to working with UCL again!