Benjamin's best bits
2022 has been the year of settling into the new normal.
One highlight has been getting back into a room with the Clearleft partners and clients to work through some gnarly problems. It's been a great reminder of just how productive we and our clients can be when we're face-to-face, pen and paper in hand. We're still mostly conducting remote research but I'm really hoping that changes in the new year.
Likewise, UX London was the first opportunity where we as an agency got to work together on a single project. In addition to the amazing speakers, the slick new venue, and the amazing attendees, the entire Clearleft team got to hang out and enjoy each other's company. It was the bonding experience we'd all been waiting for.
As 2022 wraps up, I'm excited about what 2023 will bring; another design researcher on the team, more time set aside for writing and knowledge sharing, and making a positive impact in people's lives and the world.

Luke's best bits
Having only joined Clearleft towards the end of the year I've not much to look back on. I'm excited to be joining an agency that shares my mindset and values when it comes to the importance of user research, and looking forward to working with Benjamin and the rest of the team.

Chris P's best bits
There have been many stand-out moments throughout the year, but the togetherness and great vibes at UX London (as well as being a great event) was the work I was most proud of as it touched most people in the agency.
Up there near the top has to be a particular project that came out of some great conversations at Leading Design New York. We ended up pitching against some of NY's top design agencies and winning!

Stepping in at Leading Design London to open day two was an honour and a treat.
Outside of project wins and business, distilling the Clearleft proposition back down to its essence - 'design transformation' (and seeing it talked about by speakers and prospects) was a fantastic highlight to come out of this year. Researching and writing a blog post on Why design transformation is more important now that it's ever been really helped crystallise my understanding and thinking around design transformation and sets out our stall for the future.
And of course, our quarterly team meetings following by sushi making, mini golf and Beach Volleyball!!
James's best bits
Wrestling some of my trickiest career challenges into positive outcomes with the help of my Clearleft partners was a highlight for me. We've been through some significant changes this year and we're emerging as a strong, unified team.
Working with UCL to deliver the first release of their design system, and pulling ideas out of the ether to build a hub which will become the human-centred heart of Sage's product ecosystem. I'm proud of the work we did on these two projects in particular.
We've also made real progress on our own website, clearleft.com. It's sometimes difficult to find the resource to keep the site updated but this year we've managed to make some big transformations: rewriting and reorganising content to reflect our new strategy as well as streamlining the site in both design and code.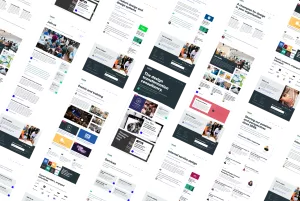 Utopia continued to grow and gain traction. We published our first video (3.4K views and counting). We also published the Figma project kickstarter, added the visualiser to the home page, as well as a new grid calculator, a showcase page, and a few blog posts.

I've loved welcoming the new Clearlefties this year. Our in-person encounters have been brilliant – especially beach volleyball and sushi training. As well as the new skills and perspectives they bring, of course.
Rich's best bits
It's been great getting to spend more time in person together, both in the studio and especially at our quarterly playbacks and socials. Partner Day really felt like Clearleft in true action - everyone building on each other's critique and ideas and pulling together to work out ways to make Clearleft better.
I'm really excited about everyone new to the team over the past 12 months. We take our time over hiring because the right people are so important - and we've landed ourselves some brilliant new Clearlefties! From a personal perspective I'd like to call out 3 in particular:
Chris Pearce joining has given leadership of the company fresh ideas, impetus, a breath of fresh air, big smiles and terrible jokes. It's difficult running a company and from a personal point of view it's been great to share that with someone of Chris's experience (and frankly hand over a lot of the stuff I'm not so good at).
Louise Ash finally joining us on a permanent basis is brilliant! Say no more.
Alex Edwards, who joined us this month, is another success story I'd like to highlight. Alex was a design intern with us before her final year at Reading Uni, and that she's come back to Clearleft 10 years later as a senior designer is wonderful.

Our lunch n' learn show and tell sessions never fail to fascinate me, whether it be a playback, an insight into someone's personality (the secret life of Clearlefties), an outside speaker (Charlotte Parker on research, Irina Rusakova on accessibility), or our own expertise (Jeremy's talk run-through's, Benjamin's recent Google Drive demo or Chris P on pitching).

Louise's best bits
We've delivered some brilliant event experiences this year despite lingering COVID considerations and some big changes on the team. As an event organiser it has been a joy to be back in-person again, running around with a clipboard and feeling the buzz of an excited audience.
From a very chilly trip to New York for Leading Design to the mighty return of UX London in the extraordinary heat of a British summer - they all created new relationships, new learnings and new opportunities. But my highlight has to be the wonderful women's retreat we hosted in the burgeoning springtime of the English countryside -15 brilliant design leaders embracing the opportunity to pause, reflect and support each other's professional development. It was pretty magical! And I can't wait to see who shows up for the 2023 edition coming up in March.
Chris H's best bits
It's been a year of transition. As a design studio we've been navigating the change to a post pandemic world. We're still remote first but finding more opportunities to get together when it makes sense both socially and professionally. I also started in a new role in January – Head of Experience Design. We've been growing and hiring new team members was a focus for the first half of the year. Adding new people to our talented team and seeing them flourish (and being inspired by them) is my absolute highlight of the year.
My personal highlight was being asked to contribute a chapter to an e-book 'The Customer Onboarding Handbook'. It always makes me happy to share practical advice gained from project work with clients and even more flattering to be in a publication alongside the likes of Candi Williams and Emma Parnell.
Having a favourite project is akin to being asked who's your favourite child. But, if I was forced to pick one it would be helping Springer Nature the world renowned academic publisher create a digital vision as a catalyst for their digital transformation.
The project wasn't easy but then the best ones often aren't. It had a mix of complexity, strategic thinking, and the use of design skills to approach business critical challenges. The best bit though was the close collaboration and robust conversations with the engaged and smart internal team at Springer Nature.
An unashamed plug goes to a talk I gave this year at the excellent Pixel Pioneers conference in Bristol. 'You got to fight for the right to delight' was a heartfelt plea with my belief that designers add most value when they push boundaries not just pixels
Although not from this year but I re-listened to the ever excellent Clearleft podcast. I'm looking forward to a new series coming out this year.
Michelle's best bits
My highlight of the year has been starting at Clearleft. I had wanted to work for Clearleft for some time and starting here has not disappointed me. I've been able to learn so much from the team but I've also been able to add my knowledge and excitement to the team. Most importantly setting up a pet channel in Slack. How they ran a business before that was in place I do not know!
Since starting at Clearleft I have written my first-ever blog post. Something I never thought I would do or be interested in doing. It's a small win but for me, it was a big win.
I've also had the opportunity to work behind the scenes at UX London. Just seeing the work that goes into an event like this was inspiring. I also got to meet the team face-to-face for the first time, confirming what a great bunch of people they are.
I can't wait to see what the next year brings.

Carly's best bits
343 days of being part of the Clearleft team as I write this and I can't quite believe how fast the year has gone. They say time flies when you're having fun — and they're right.
Since joining in January 2022 I've been fortunate to work on some seriously challenging projects in a number of, equally interesting and intense, sectors for globally known companies.
A stand out highlight for me would be all of the people I've met along the way. A trip to the Natural History Museum to collaborate with their team to conduct usability testing in the wild with the public on the museum floor, speaking with business owners and accountants across England, Ireland, Scotland and South Africa for Sage, interviewing stakeholders in America for 3M and most recently customers in Australia for Inventory Planner by Sage. While I work remotely full time from home in Cornwall, I've never felt more internationally connected.
None of what we do would be possible without such a great team. Working alongside an incredible bunch of intelligent, passionate, genuine and like minded people has to be the biggest highlight of all. It's been amazing to get together IRL to momentarily shift focus from day to day project delivery to experience and assist at our events, UX London and Leading Design London, or get together for #fun-and-socialising at our Brighton HQ.
Upon joining Clearleft I hoped to build on my skills, develop my confidence and be a part of positive design transformation. It has ticked every box and so many more (including, but not limited to, volleyball playing and sushi making…)
I am looking forward to 2023 to see what new problems we will have to solve and what status quo we can challenge. The design community is thriving and I'm really grateful to be a part of it.

Sam's best bits
Having only been here half a dozen or so weeks, it's no surprise that my highlight has been joining the team. I was made to feel incredibly welcome and inspired by my new colleagues from day one, aided by a handful of fun social outings.
In some ways my first weeks have passed in the blink of an eye, but on the other hand I have already learned so much from everyone else that it feels like I've been here much longer than I actually have.
I'm looking forward to getting properly stuck in next year, with whatever is over the horizon.

Frances' best bits
Having just passed my one year Clearleftiversary, I can honestly say that 2022 has been one of the most eventful yet enjoyable years to date.
I have been fortunate enough to have been involved in some incredible projects and events, but the absolute stand-out highlight for me has been the opportunity to work with such a supportive, encouraging and understanding team. It's not often you stumble across such a brilliant bunch of people all in one room (or zoom).
....and we couldn't leave 2022 behind without a memorable send off.
Roll on 2023...