Let me set the scene for you. It's Monday 28th November and my brain is about to explode.
On my first day at Clearleft, I'm already awash with thoughts and ideas about how to move things up a gear in my new role as Marketing Manager. But first things first, I need to get to know my new tribe.
Arriving in the office, I feel the immediate buzz of activity. Everyone's working hard on projects. James Bates is scribbling away for the rebrand; new clients are in the conference room munching on croissants; Hana is figuring out the buttons on the shiny new office camera.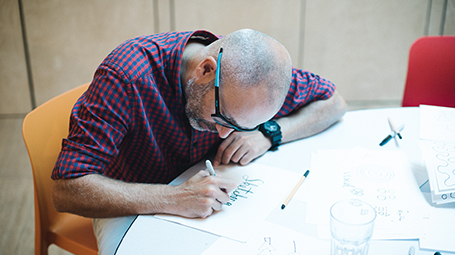 And me. I'm the newbie in the room. Slightly bewildered, and also slightly mortified having made Andy Budd the worst cup of tea of his life. (Sorry, Andy.)
Switch to now.
There I was, looking forward, but very much aware that I had little knowledge of what had gone before. What had they all been working on? And what had brought them to this point? Judging by the energy in the room, I guessed that an openness to change and a driving force of curiosity were both at play. Constant evolution before my very eyes.
In the world at large, it's been a year with the sort of change that creeps up, gives you a proper clonk on the head, then saunters off, leaving you with mild concussion and an almighty bump to boot. So what with all the Political upheaval, Pokémon pandemonium (geez) and, let's face it, a whole bunch of other baffling things going on in the world, it feels like now is a good time to take stock and reflect.
As the new kid on the block, I felt it my duty to feed the spark of curiosity that arrived on day one, and pester my new Clearleft family for a few factoids from the year that was…
Changing it up
The team were spurred into action by asking themselves the simple (yet scary) question: 'What's holding us back?'. 'Us' as individuals, as a team, as a company, and as an industry. Then they took action.
In a bid to help drive innovation in leadership, Andy Budd curated two new conferences for spring and autumn. In April, The Founders Assembly gathered together fellow founders to explore the challenges and opportunities that come with starting and growing a design agency. In October, Leading Design welcomed hundreds of design leaders from across the world to hear from a dream team of speakers for inspiration and conversation about design leadership.
On the flip side, the team also took time to reflect on their own position and growth. 'Are we comfortable in our own skin?' 'Does the shoe still fit?' According to James Box, 2016 was a bit like puberty for Clearleft, complete with growth spurt, but thankfully no acne. The result of which will be revealed in the New Year - that's right folks, it's rebrand time. Keep an eye on our Twitter feed in January for more on this.
And in other news...
Here are some highlights from the team and notable goings-on from the year that was.
We had the pleasure of working with 13 new clients this year, including the likes of Theirworld, Virgin Holidays and IMEX, across five different countries.
James Bates and Ben Sauer led the charge in Chennai, kicking off a new engagement with TCS.
Charlotte stepped up and stepped out into the realm of public speaking. Jeremy's highlight of the year was watching her present at Dot York back in July.
Jon was chuffed to lead a successful project with Pearson and win another project as a result. Well done, team!
Hana worked on a photography brief connected to our rebrand and loved every minute of it.
Some of the team at HQ felt moved to don their lycra and take part in the new company Pilates classes (sadly there's no pictorial evidence of that, as yet).
And as for me, well, my highlight has been joining this crack team of excellent individuals. That, and a fantastic guest talk by Lysandre Follet from Nike about algorithmic design, which boggled my mind (in a good way).
If you're still with me and haven't nodded off for a festive snooze, congratulations. I have one more thing to say. And that is a huge thank you to our clients, collaborators, speakers, mentors, community and associates, for without you, we could not do our work.
I wish you a very Happy New Year, and here's to a bright, prosperous and fulfilling 2017 for us all.
See you on the other side..